The inspiration being sought for today's narrative topic wasn't behind door number 14 on the advent calendar. Well, that's unless I decide to pen a yarn about a red-nosed reindeer indulging in a game of table tennis – A subject path of which I've little inclination of embarking on. Consequently, I'm presently residing in my dining room utterly bereft of a subject matter for these observations.
Reclining in a comfy armchair, I'm tormented by a lack of ornament symmetry just spotted on the Christmas tree I erected last week. No matter how valiantly the resistance, I'm unable to avert my eyes from an area of the tree that, like my current levels of creativity, lays barren. GJ Strachan's ocular focus constantly drawn to this gap requiring bauble concealment. 
A decoration anomaly that's playing havoc with my OCD. Taunting me with conundrums, such as which bauble requires re-siting so I don't introduce aesthetic irregularities to a different part of the Norwegian fir.
Changing the subject, I learned yesterday I'll be spending Christmas Day housekeeping my marital home. Yours truly's estranged wife Karen deciding to vacate chez Strachan; instead spending her yuletide in County Durham caring for her ailing dad.
Consequently, in a Xmas Brazil nutshell, it appears 25th December will play out for me as a day of overindulgent solitude…. Solitude not to be mistaken for the Warwickshire town Solihull, which'll likely play no, or little, part in my festive season.
During my self-imposed hermitism, I'll be toasting St Nick's arrival without the usual company of family members, including old uncle Roger. An eccentric man who, during a long standing endeavour to appear rebellious, wears a wrist watch on his ankle. An idiotic idea which ordinarily means, if he's not already sitting, he falls flat on his ass when checking the time.
If truth be told, I'm not even certain if the old guy actually is a blood relative. We've called him uncle Roger since I can remember, but I'm unsure whether the Strachan's share any DNA with this idiosyncratic fella in his dotage.
As a child, I raised the question to mater about how we're related to uncle Roger. Her response was to cough nervously, before informing me that my grandma found him on Woodhouse Lane, Leeds, in 1939. An unlikely tale, but she maintains it's her understanding of why the guy turns up to family Christmas dinners.
He never brings gifts for his 'brood'; joking his contribution to our Christmas feast is his cavernous appetite, along with provision of jocularity when he falls during checks of his ankle watch…… For all I really know, though, he could be a bloke with a decades old habit of just walking into my family home on Christmas Day for a free meal, booze and warmth.
Roger's idiosyncratic behaviour extends, after a few sherries, to adding the word Sainsburys*** in the place of any song lyrics he's unable to recollect. His harmless, yet cacophonous, bellowing of 'God Save Our Sainsburys', at the 1987 Queen's Christmas Speech conclusion, now chronicled in the annals of family folklore.
*** – A UK supermarket chain.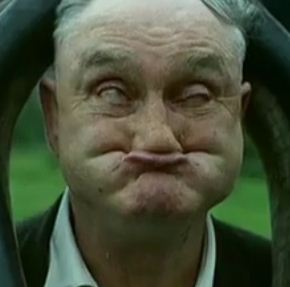 Uncle Roger (above) after consuming the sprout tree.
It's going to be weird being bereft of family company on Christmas Day; but in a way I'm kinda looking forward to the peace. In particular escaping from uncle Roger's renditions of 'Sainsburys the Snowman', 'Chestnuts Roasting on an Open Sainsburys'; not to mention 'When Santa Got Stuck in Sainsburys'…… The old fella seemingly unaware that quirkiness and idiosyncrasy do possess tolerance limits.
Anyhow, I'm going to bring this narrative to a conclusion. I need to sort out my Christmas tree's lack of symmetry, which is driving me nuts!!….. Have a good one.