In what was an early birthday celebration for my daughter Rachel, the family spent a pleasant few hours in Leeds yesterday evening.
With thirsts quenched by cocktails and beer in a Greek Street bar, we took an early evening saunter to Stockdales of Yorkshire where we'd booked a table for 7.30 pm.
None of us had dined at the restaurant previously. However, Rachel had heard good reports of the dining experience there, so plumped for it as the venue to celebrate with the brood.
The menu with its heavy emphasis on meat based dishes wasn't what you'd call vast. However it was large and diverse enough to cater for most palates, including vegetarians. I know this as, during scrutiny of the menu, my wife Karen commented "They even cater for vegetarians!"
I'm not sure why she felt the need to raise the subject of the inclusion of a vegetarian dish. After all, it's hardly a rarity in these days when eating establishments cater for a diversity of diets.
If she'd have highlighted the menu had a dish for customers dressed as clowns, left handed clients or those of a specific underpant colour, it would be an unusual occurrence worth flagging. However, pointing out there's a veggy dish on the menu these days is like saying "Blimey they've even got a toilet!" or "I can't believe it, you can pay with a card not just cash!"
Had Karen informed me "I see they do a dish specifically for people wearing blue undies!" I'd have been shocked, although no doubt would have laughed heartily at the randomness of the eccentric menu inclusion. But to appraise me of the inclusion of a pumpkin risotto as un choix de repas isn't going to make the 10 pm news.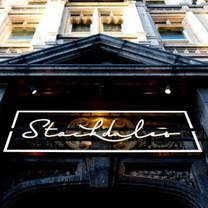 Prior to visiting Stockdales, Rachel had informed Karen and me that the steaks had been highly recommended by friends who'd visited. Last week she'd waxed lyric about the reputed superior taste and succulence of the meat. Karen hung on her every word almost salivating at our daughters description of these steaks.
In the end, though, Rachel didn't quite sell it as Karen plumped for a chicken dish and I had pork. Unperturbed, the birthday girl went for the fillet steak which her palate opined was of the highest quality both in its cooking and flavour.
The poet in me asked her "Was it dining utopia for carnivores?"…… Unimpressed by my pretentiousness, my daughter asked me not to let the poet out again during the evening, or I'd be sent home in disgrace.
Karen advised the table her chicken dish was fantastic. The carrot puree and lentils producing a taste and texture to perfectly compliment the succulent breast. It was a very poetic assessment from my wife, who ordinarily burps and says "More tea vicar?" at the conclusion of a meal.
My pork dish with its pumpkin puree and the extra spiced red cabbage was a culinary carnival. A fair with ride height restrictions, but bereft of flavour restrictions. After consuming the final piece I gave an appreciative burp, which was so loud a friend at the other side of town heard it and text me the message "Pig!"
My son Jonny went for the burger from the blue undies section of the menu. His fiancée Jenny had the Beef Bourguignon. Similar to the rest of the party, they both commented how fulfilled they were with the cuisine.
At around 9.15 pm we left the restaurant, heading out towards Greek Street with full stomachs, contented of soul and Karen still barely believing you could get a vegetarian meal at Stockdales!