A journey east along A64 was the order of the day for my missus and me on Friday evening. Our trek was to see a show named You Win Again in the Minster city of York; a metropolis of beauty, history and manufacture of Kit-Kats.
On arrival, after purchased a bouquet of flowers for my mater as a Mother's Day present, we headed toward the restaurant Lucia's for an early evening meal. Here my wife (Karen), green of eye and panged with hunger, along with myself, ate a light dish of salmon and pizza respectively.
The consumption of good quality food, a refreshing pint of Italian beer, pleasant ambience and the fact Karen was paying made the dining experience a particularly pleasurable one for yours truly.
We've dined at this restaurant a few times, a fact re-iterated by the words 'Karen Strachan was here – October 2016' carved on our hard wood table.
The first time we ate there was a celebratory meal for my son's graduation from a York university a few years. I remember the occasion vividly; my son sat in a high chair (he was a child prodigy), who alongside my wife and daughter looked resplendent in their Sunday best.
The food then, as every other time we've eaten there, was gratifying and the service couldn't have been bettered. They even offered to heat my son's Alphabeti spaghetti for him.
However, it wasn't required as the awkward so and so chose a Chicken Caesar Salad, without the chicken or the salad…… He ended up with a bowl of Caesar sauce from our understanding hosts, and question marks against the validity of being a child prodigy.
Anyway, I digress, back to yesterday evening in the Minster city.
After completing a satisfying nosh up of Italian provenance, Karen and I were en route to the Barbican theatre. As mentioned earlier, the show You Win Again, a musical tribute to the legendary songwriters The Bee Gees, was the reason for the 60 mile round sojourn to our counties capital.
Sauntering towards the Barbican, the solar rays kissed our foreheads as we dodged the shadows of structures of yore. The rays wanted to kiss more on the pleasant Yorkshire evening, but I was reticent to oblige on a first date, so politely declined……. I'm no floosy!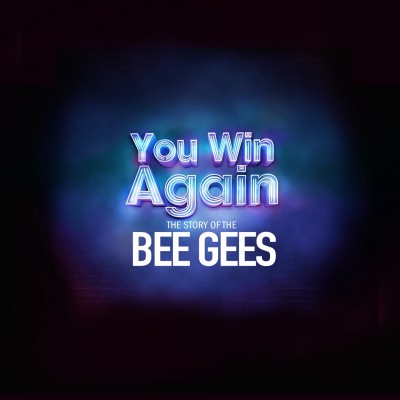 On arrival at the theatre, we headed to the bar where Karen requested a cola drink and I a filter coffee. If you're interested the cups both had lids……. If you're not interested they still had lids.
Growing increasingly irritated of my conversation about lids, Karen suggested we head to our seats. So armed with lid covered coffee and cola we headed into the auditorium where we would shortly be treat to a performance of Brothers Gibb anthems.
On sitting in our chair, Karen hastily told me that she'd read a sign outside saying we needed to turn off our phone in the auditorium, along with refraining from talking about lids.
I didn't witness this advisory note, but thought it an unusual request, particularly a sign specifically advising 'Gary & Karen Strachan, please turn off your phone during the show.'
Why just us, I pondered?…. It raised a level of paranoia in my neurological corridors that deeply troubled me.
Thankfully, it wasn't long before my despairing spouse put my mind to rest, telling me "Don't be an idiot. When I said 'we have to turn the phones off' I meant all the audience not just us two, you berk!"
At this point the show started with a rendition of the eponymous show song by the musicians, ably assisted by a group of six female dancers, attractive of form and energetic of choreography. As with all the later anthems belted out later by the tribute team, it was an accomplished performance.
As you'd expect from a back catalogue of gems written by the Bee Gees, the songs being performed were never going to disappoint.
If I was being pedantic, I'd say the guy playing Robin Gibb occasionally seemed to wonder off into pub singer mode. This was a minor thing to me, though, as I have an appreciation of the art of caterwauling in the Dog & Badger; or whatever other moniker is bestowed on a local boozer…. Despite my pernickety comments above, I'd say the show is well worth a watch.
One final thing, between songs a narrator enters stage right to provide a chronological timeline of how brand Bee Gee evolved through the decades.
This guy, with his eloquent delivery and hair by Bouffant Bill, reminded me very much of the lad who is married to my wife's sibling. The comparison isn't borne out of his looks or articulate diction, moreover the fact he never chuffing stops rabbiting on about the Bee Gees either!