I ventured by contemporary omnibus with my wife into Leeds city centre yesterday afternoon.
In half empty bus through grit covered windows,  our journey encompassed sights of the salubrious and less salubrious suburban sights of our West Yorkshire metropolis .
The psychoanalysts among you may say that by penning 'half empty bus', as opposed to 'half full bus', indicates a pessimistic outlook on my part. However, I'd refute that accusation by arguing that, unlike in the maxim about glasses, buses being half empty is a good thing.
It means choice of seats, a slightly more oxygenated cabin and less being stood grasping a hand rail as if your very existence depended on it. The yellow rail being the only thing negating a plunge into the lap of an unsuspecting old woman from Burmantofts, when the bus driver over compensates on a sharp bend by the gargantuan Department of Work & Pensions (DWP) building.
The DWP building, which I personally believe would benefit from stone cladding similar to Jack & Vera Duckworth's old house in Corrie, stands aloofly as it surveys its neighbours of smaller structure just off the inner ring road at Quarry Hill.  Its imposing structure has been a notable landmark for me on other less pleasant bus rides into town.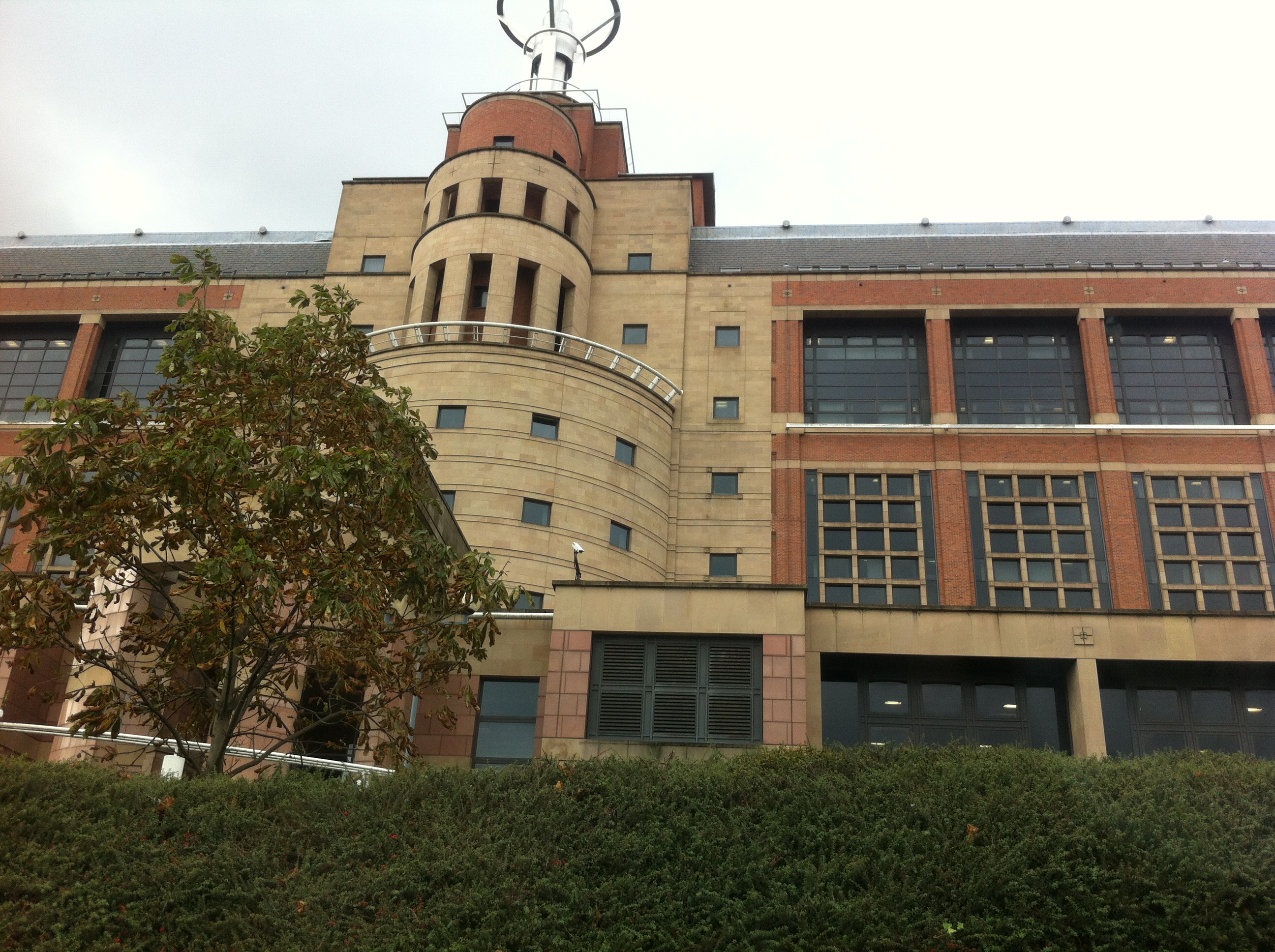 On those disagreeable expeditions, my spirits raise a notch as we semi-circumnavigate it heading towards the Mecca Bingo and the Leeds bus station. At that point I know that I'm only a few minutes from aromas of Greggs pasties or Luigi's pizza parlour, as opposed to the odious smell of the Ostrich aftershave recklessly over-applied by the Garforth man in front.
Thankfully, yesterday's saunter into town courtesy of public transport was not an unpleasant experience. Subsequently, I didn't spend the first 20 minutes of the journey longing for the sight of the DWP building.
There were early good signs it was to be a decent venture from the suburbs of East Leeds into the city centre, when the bus driver smiled as we climbed aboard his cream coloured vehicle…… Incidentally, the inclusion of the words 'a happy Leeds bus driver' in the narrative isn't one of the fictional elements in this prose.
When we got into town, alighting on Boar Lane, we headed towards Briggate as my wife Karen expressed a desire to survey the handbags in the Marks & Spencer's (M&S) sale.
When I say she wanted to survey them, I mean look at them with a view to a bargain. Not that she was structurally surveying the handbags for a buyer yearning to convert them into apartments for Hobbits.
Once in the M&S department where the handbags were on display, I followed my missus around like a dutiful husband, feigning interest and wondering whether the guy stood nearby smelling of Ostrich was from Garforth.
He was with, what I assume was, his wife. However, it might have been someone else's as he looked  as happy as our bus driver earlier.
His wife was searching through a variety of bags, eventually appearing to find what she was looking for when picking up a maroon coloured bag and proffering "This is the type of bag I'm after as it has handles and a strap on."…….. I tell you what, it's amazing what the bag designers include in their products these days!
Eventually, after Karen had purchased a claret coloured (I think) bag we wandered off for a pre-meal drink in a pub just off Boar Lane.
The pub in question was packed with post Christmas revellers, women with new handbags and homeless Hobbits. Eventually I got close to the bar and stood behind a guy who on being served guzzled down half of his lager. This led to the following interaction between me and the chap in question:-
Me – "Blimey, you must have been thirsty!"
Bloke at bar – "Yep, I needed it I've just spent £2000 on an engagement ring!"
Me – "Congratulations!"
Bloke at bar – "Thanks. We are both very happy about it."
Me – "No, I meant for managing to get chuffing served in here!"
Despite me only half joking, he laughed at my quip before ordering a half pint to top what he'd already consumed. I assume he undertook that so his fiancée didn't think he had a drink problem, called off the engagement and left him with a £2000 ring.
After finishing our drink, Karen and I strolled up to Eastgate for an enjoyable curry. I know it was enjoyable because I enjoyed it!…… If it had been just ok, I'd have written ok curry…… If it had been substandard, I'd have written substandard curry……. If it had been really poor, I'd…. well I think you get my drift!
We returned home on a half full bus at 6pm. A half full bus is similar to a half empty one only with more intoxicated people in!
As we entered chez Strachan, I smiled as I reflected on an almost surreal afternoon where I'd met a happy bus driver, learnt of innovative new handbag designs, and met a bloke with a drink problem who'd spent shitloads on a engagement ring.
Oh and not forgetting the enjoyable curry…… I know it was enjoyable because…. Ok, ok I won't start that again!