No hospital visit with Bert & Mavis today. Thankfully for the octogenarian Yorkshireman he has the weekend off from his radiotherapy treatment.
He will spend this respite from his gruelling routine doing what he loves best; watching sport, imbibing the occasional glass of red and ensuring Mavis is cooking the meals in the right pans.
Likewise, radiotherapy will indulge a well deserved two day break after a week of intense battle with its tumorous foe. Apparently, it intends to spend this time relaxing with an aunt and uncle in Scunthorpe.
Yesterday, it was heartening to hear of the current success radiotherapy is making in its crusade against Bert's tumour. He seemed more upbeat when I arrived to drive them to the oncology unit, or he was until he heard that Mavis had heated his soup in a frying pan.
Cheeringly for the family, the 'grandma's choice' appears to be making small progressive steps. Although, he's only got little legs so diminutive steps are to be expected…… Chuffing short arse!
He will no doubt spend sometime over the weekend being visited by his harem of elderly lady admirers. His long-suffering wife Mavis will have to look on in despair when three wise women come bearing gifts, as they pander to their target of affection's every whim.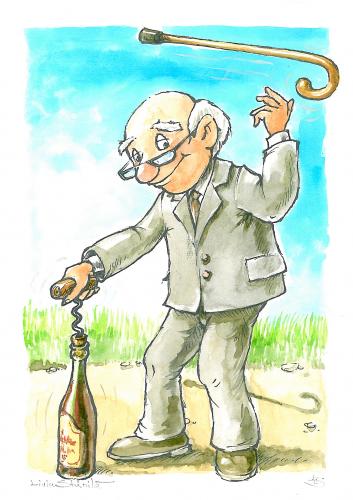 For a couple of hours, the old couple's living room will ring to the sound of aging women's comments like "Show us your scar then!", "Can you speak up, I couldn't hear that, love!" and "Never mind the scar. Get your todger out Bert!"
While radiotherapy enjoys its walk along Scunthorpe seafront trying to stop seagulls pilfering from its bag of chips, the old guy will be in his element at home. Here he will take centre stage, telling his captivated audience tales of his virility, what it was like to be a knight on King Arthur's roundtable and other made up stuff.
As Mavis sits shaking her head in despair at his Walter Mitty tales, his harem will sit gobsmacked at his chivalrous yarns from times of yore…… Well, apart from Glenda who halfway through a tale will inform him "Never mind the knight in shining armour stories. Get your todger out, Bert!"
The elderly Yorkshireman, though, will not take advantage of his adoring hordes in that way. He's a true gentleman from the old school. A guy who adores his wife and deems family to be sacrosanct (or he would if he knew what sacrosanct meant)……. That being said, though, he might have been tempted by Jane Fonda 40 years ago if the opportunity had arisen!……The mucky so and so!
Mavis, is aware of how highly her spouse thinks of her. They have been inseparable since they were bound by matrimony in 1960. It is with certitude of his fidelity that the very foundations of their sanctity are built…… And if this ultimate trust was broken, she'd no doubt declare "They're bloody welcome to him. The miserable bleeder!"
It's been a worrying time recently for Bert, Mavis and their family. As I drove them both home from his last treatment of the week, I pondered that things maybe not that bad and felt a real warm feeling…….. The silly old sod had spilt his soup on me!