With only a Cadburys fresh air advent calendar on display, there currently isn't much of a festive ambience in chez Strachan. With this in mind, I intend to raise the yuletide cheer levels later by venturing to my local garden centre to acquire a Christmas tree.
I know that's hardly news that will make this evenings TV bulletins. However, compared to my only other newsworthy tale from today (opening the wrong door on the advent calendar) it's an announcement of seismic proportions.
If you didn't read my narrative yesterday (don't worry as you're in the majority) you might wonder what I'm alluding to regarding the Cadburys fresh air advent calendar. Actually, even if you did read it, you may be curious as to what the hell was I on about!
The advent calendar has been rendered as a fresh air calendar due to it's contents, ie Cadburys chocolates mysteriously disappeared while under my adult daughter Rachel's watch when she 'looked after it' last week.
To steal an Alan Bennettism, there was a bit of a 'to do' about the whole episode. Things were pretty heated for a while. Disparaging names were thrown like confetti, home truths scattered recklessly and my wife nearly missed Coronation Street due to the protracted arguing. 
Despite protestations of her innocence and claims the disappearance was the work of burglars, Rachel still remains chief suspect.
My wife Karen and I don't buy her story that the 'Chocolate Pilfering Gang' had targeted our abode, leaving everything untouched apart from the contents of our advent calendar. Her story smacks of desperation and is about as likely as the festive robin residing in the back garden being the culprit.
Karen's punishment for Rachel was swift and ruthless. She banned her from using the word procrastination until the new year. My daughter was irritated, but has reluctantly agree to use the word dawdle in its place until January.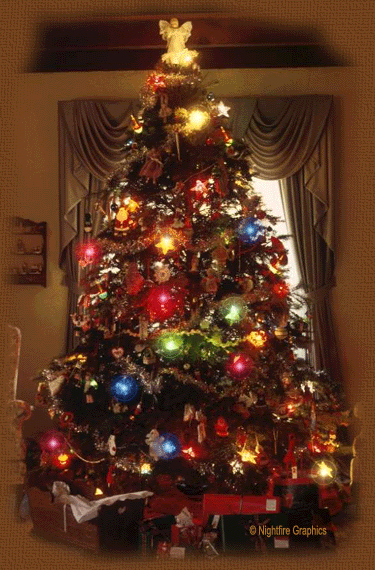 I intend to get a real tree, as I have traditionally done throughout my marriage. For me, the smell of the pine needles are as essential to the Christmas ambience as turkey, mistletoe, carols and listening to Aled Jones sing that snowman song before his nads ventured south.
I tend to get a tree around 6ft in height, with a girth of the rear bay window. Our lights are all white, the ornaments traditional with a predominance of red and green colours. No expense will be spared to make our humble abode a winter wonderland……. Well, I'll go up to £35 for the tree anyway!
Ordinarily, I'm lauded for the creative design of my yuletide tree. In fact last year someone was so impressed with my work they exclaimed "Did you see the size of Nigella Lawson's Christmas turkey on TV last night? It's breasts were bigger than hers!"
I realise that isn't giving me kudos for my decoration, however, I'm sure that's what this person was alluding to on some level with their statement.
Thankfully, these days trees are a lot more resilient to needle fall than they used to be. You could always rely on our early family trees being bereft of needles come Christmas Day, if we put it up before 11pm on Christmas Eve. Now we get a few weeks out of them with the minimum of droppage.
Right, I must get off and get down to the garden centre and start making this place look more festive.
Hold on a minute!…… Is that the robin I can see eating advent calendar chocolates in the back garden?…….. Rachel may have been innocent after all!